Unfortunately, the coronavirus (Covid-19) outbreak is changing how people shop worldwide. Offline fitting rooms are taped off to avoid interaction. It has given way to a new, more socially distant way of shopping.
"Trying on" clothes and shoes, cosmetics and sunglasses through to a quasi-new haircut or brow shape. According to a recent survey, 60% of customers surveyed worldwide have experienced virtual reality while shopping. Not only can you see yourself in virtually any clothing or combination of clothing, but businesses can generate more revenue by increasing the average shopping cart size.
The dressing is going digital with the introduction of high-tech sizing machines that scan the buyers' bodies and instantly deliver prints recommending the sizes and styles most suitable for them. The technology is already being used in shopping malls across the world.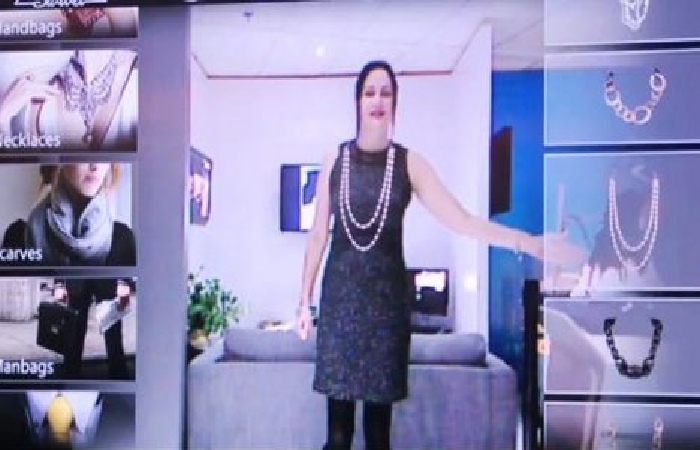 It has received hot responses from shoppers who love how easy and enjoyable it makes the shopping experience. It also benefits the entire apparel industry, from manufacturers who make the most of higher sales to retailers who require fewer salespeople to refold and replenish discarded items.
According to the survey, the global virtual changing room market will reach more than $ 10.5 billion by 2026. The increasing acceptance of AR- and AI-based solutions has dramatically boosted the demand for virtual changing rooms.
Moreover, with this in mind, many companies have opted for virtual cloakroom solutions with a three-dimensional (3D) model body avatar. Not only does it help them provide a more engaging experience for customers, but it also helps them advance in the market. Sounds great. Let's explore the details below!
You Can Also Read The Article Too: Technology In The Field Of Healthcare
Virtual Dressing Room: what is it exactly?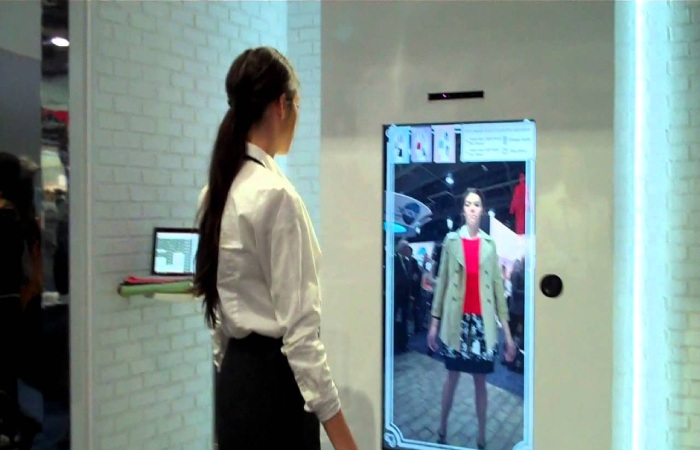 The virtual dressing room is a bespoke technological solution that runs on mobile devices and enables online users to virtually try on various clothes, shoes, and other accessories using a three-dimensional model. Taking the body avatar with you on your smartphone instead of going to the dressing room of the offline store is a great technical solution.
Moreover, it uses Artificial Intelligence (AI) and Augmented Reality (AR) technologies to simulate three-dimensional (3D) models in real-time. With three-dimensional (3D) models of virtual cloakroom solutions, your business or organization can represent the following characteristics of each.
Examples such as gender and size, shape, and form. Not only does it help you reduce shopping cart abandonment rates, but it also lowers return shipping costs for online merchants.
You Can Also Read The Article Too: Top 10 Digital Advertising Tools for Social Media
Virtual Fitting Technology: How Does It Work?
Here's an explanation of how virtual fitting technology works. Let's read on! This information clarifies the logic of the virtual dressing technology, which is based on a deep learning model.
A user takes just a few photos from a smartphone to create their own virtual body with a simple click.
Based on images captured by your device, a system uses a deep learning technology model.
It calculates a complete list of body measurements. Only by using deep learning models can you get the most accurate measurements of your body.
A three-dimensional (3D) model (for example) of a T-shirt is placed according to the recorded body measurements. It helps to show a user the orientation naturally.
A three-dimensional (3D) t-shirt model with natural textures and lighting.
You Can Also Read The Article Too: 9 Tips On How To Do SEO For Small Businesses
Virtual Dressing Rooms: What Are The Best Solutions And Uses?
Offering consumers a virtual cloakroom experience that is very different from traditional stationary facilities is also becoming widespread among businesses and consumers. Let's find out which virtual cloakroom solutions many brands have already invested in:
Shoes and Fashion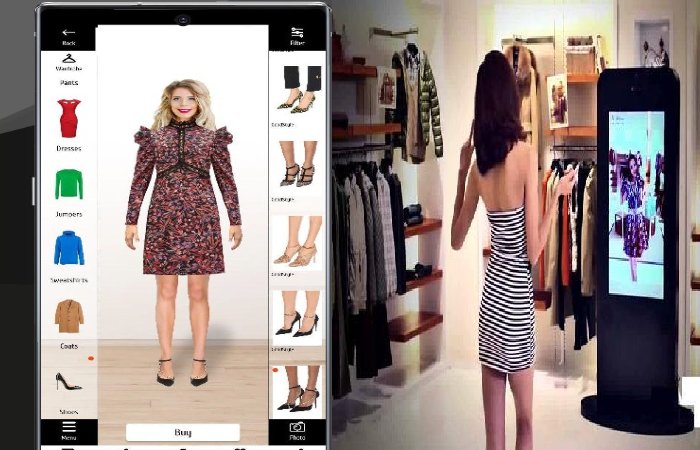 Thanks to a virtual changing solution, users can put on clothes and shoes of different sizes to see if they fit or fit in a 360-degree view.
Once users have accessed the application from any device with the Tango augmented reality platform.
They can move their custom three-dimensional (3D) model avatar.
It changes directions and angles to see how they look in new clothes.
Accessories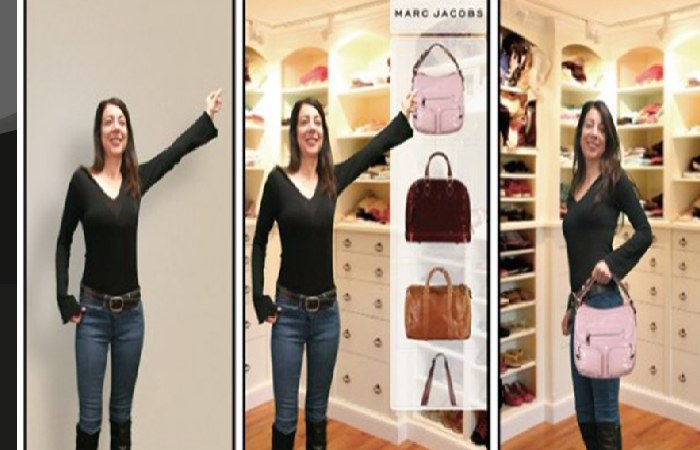 Using a virtual changing room solution with a three-dimensional (3D) avatar model.
Users can try on various accessories, from hats to watches to earrings.
For example, the sunglasses brand Ray-Ban has benefited from this solution.
It offers virtual models simply by using the webcam on your computer. This solution is based on the deep learning algorithm that calculates and recognizes facial features.
Cosmetics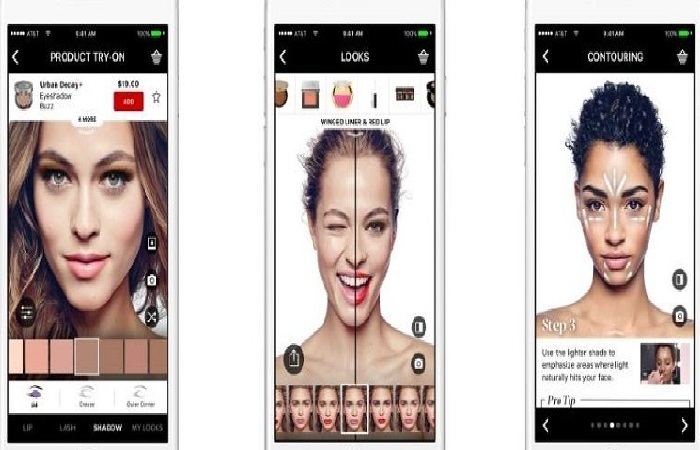 With AR and AI technologies, make-up giants enable their customers to virtually try products based on their content instead of going to the store.
Only by uploading facial photos (selfies) can users almost apply different make-up colors such as eye shadow, bronzer, or blush to their unique facial features.
The most famous brand that has used this virtual model is Sephora.
Home Furnishings and Decoration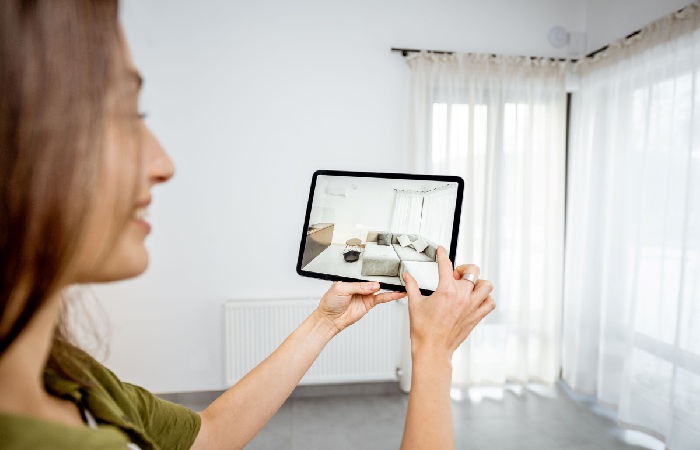 By combining AR and AI technologies, users can see an accurate 3D model of furniture in the area and visualize it.
It visualizes what a piece of furniture would look like in their homes.
What are the benefits of the virtual changing room solution for your company?
Let's discover some key benefits of virtual changing rooms that digitize clothing in the form of 3D models from which companies can derive:
Encourage customers to try many products with virtual equipment rooms
By having various clothing items in your store, a virtual dressing solution can provide a great experience. Not only can customers browse all of their collections, old and new, but they also have the opportunity to combine different items of clothing. With accessories or shoes and choose the best one. In addition, they are also likely to buy more than one product, add more clothes/items to their wishlist, and come back day after day to make a purchase. It's a good sign.
You Can Also Read This Article Too: Top 10 Digital Advertising Tools for Social Media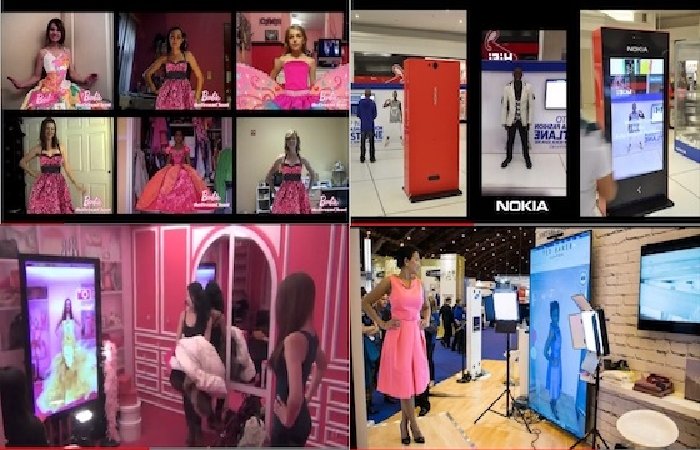 Generate Buzz About Your Brand With The Virtual Fitting Room APP
If your brand is to be successful, people must talk about it. Just start with a sophisticated virtual changing room solution that fascinates the brand or company and sets you apart from the competition. Build anticipation for your brand with a three-dimensional (3D) mockup app for the virtual locker room that leads to the big day. This is a highly effective way for your company to generate revenue and stand out from your peers in the industry.
Build An Emotional Connection Through Augmented Reality And Artificial Intelligence
It's no secret that an emotional bond with potential customers makes all the difference when they decide to buy. If you've shopped on other platforms without this virtual model, you'll be happy to find it. Only through an extraordinary and playful experience will they fall in love with your brand and make more purchases. The better your brand relates to consumer emotions, the faster your business will grow and increase sales.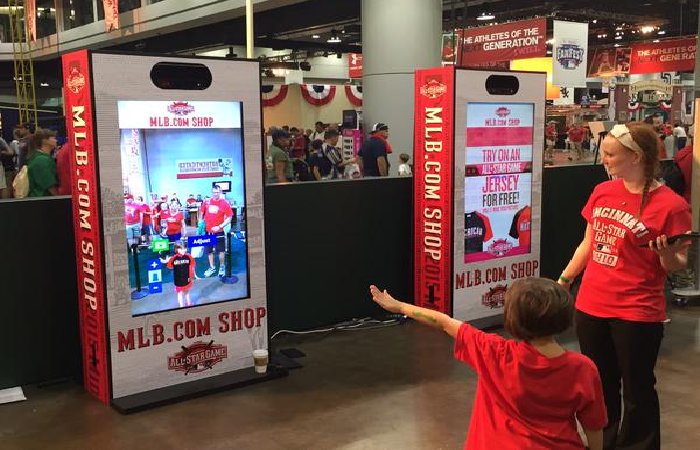 Promote Your Brand And Will Be Interest With A Diverse Public
Many users choose social media to search for new products, read reviews, and buy products on the app. With a virtual locker solution, consumers can share and touch their dressed avatars on social media. This will drive potential consumers to learn more about your brand.
It will also drive potential customers to visit your website or social media page, and ultimately buy. Nowadays, it's easier than ever for your brand to engage with consumers to take advantage of social shopping and leverage social media traffic successfully.
You Can Also Read The Article Too: Guide To Enterprise Solutions For Small eCommerce Businesses
Conclusion
Is your company ready to gain a foothold with a virtual changing room solution based on augmented reality (AR) and artificial intelligence (AI)?
Delivering a seamless shopping experience is critical to a customer's conversion brands that prioritize the customer experience tend to generate higher revenue and higher profitability. While a virtual rehearsal changing room with AR and AI.
Artificial intelligence and augmented reality sound like an immersive experience. Strolling can cost a potential customer. With this in mind, you should focus on virtual changing rooms and the ability to try the concept before you buy.
It is to provide your brand or company with an exceptional end-to-end customer experience and increase your return on investment.  Write to us for more information on creating a virtual cloakroom solution for your company.
You Can Also Read These Articles Too:
How to search all the photos stored on your Windows 10
10 Key Skills and Knowledge of a Front-End Developer