Zapper is one of the most popular new concepts on the internet, as this word of French origin now appears as a common noun in the Spanish language, which is why there are now a large number of objects and services that show this word in the title. So, this article explains what Zapper is, what services it offers, and why it is so popular. In addition, it mentions where it is valid to use it and the advantages of the platform.
What is Zapper used for?
The word Zapper has many meanings, so it tends to confuse people because they do not know how to identify the concept to which it refers. In that sense, many objects have this term in their title, such as outdoor lamps, electrodes, a dictionary, a spatula, an oscillator, and even a parasite. However, the most common use of the Zapper is seen in the world of technology, where there are also several specialized programs such as the download manager and a cryptocurrency platform.
Various tools and platforms allow users to keep their digital assets in constant interaction more efficiently in cryptocurrencies' complex but fascinating world. One of these resources is Zapper, a platform that manages cryptocurrencies and will enable users to carry out various operations in a single interface easily and securely.
Zapper is a digital cryptocurrency management platform or program that provides many facilities to its users to manage their digital assets effectively and without loss. The platform emerged in 2020, so it is pretty new, so many people are unaware of its existence. However, it has rapidly gained popularity over time due to its ease of usage and wide range of features.
How does Zapper work?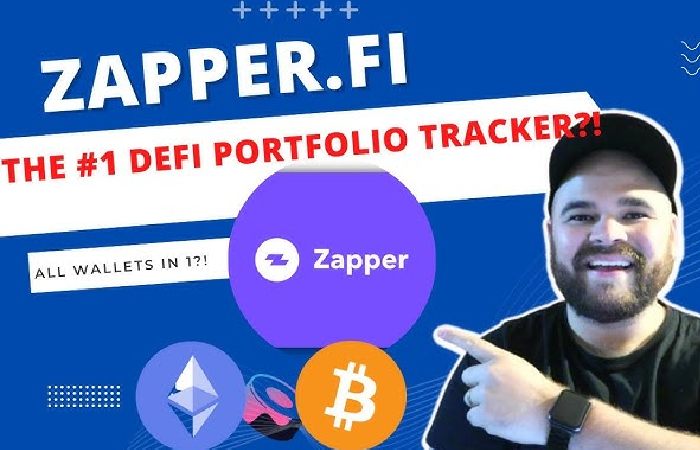 In Zapper, the customer or user can carry out several operations, as with other digital programs that handle crypto assets such as Ethereum or Bitcoin. In this sense, the activities that stand out the most are exchanging cryptocurrencies, adding liquidity to liquidity pools, and lending and borrowing cryptocurrencies to others in operations where earning interest on their digital assets is viable.
Similarly, Zapper integrates with a wide range of DeFi (decentralized finance) protocols, meaning that users have a variety of decentralized financial services at their fingertips on a single platform. In other words, no intermediaries, such as banks or exchange platforms, operate where crypto assets are moved.
Another useful feature of Zapper is its portfolio tracking tool, which allows users to view their digital assets on a single screen. This resource makes it easier to manage and track your portfolio, and Zapper offers a variety of analytics features to help people make informed decisions about their investments.
How to use Zapper?
No special equipment is required to use Zapper, and the procedure to access it is quite simple. First, users must connect with compatible cryptocurrency wallets like MetaMask or Coinbase Wallet. Then, they need to access the Zapper page or app and perform various operations on a single interface, all from the comfort of their cryptocurrency wallet.
Select the assets you want to transfer to other currencies if you exchange cryptocurrencies. Zapper will run the calculation automatically and show the final result. However, if you want to add liquidity to liquidity pools, users must select the collection where they want to add or save their coins. Then, Zapper will make the transaction in a few seconds, and your crypto assets will generate favorable interest.
Where to use Zapper?
Zapper has no special user restrictions, and it has been available worldwide since its launch. In this way, anyone can enter this platform and turn it into their wallet. However, when paying or making a transaction, you must ensure that the store accepts this type of cryptocurrency.
In this regard, you will not encounter many problems, as the platform has gained high popularity among decentralized finance (DeFi) users. Because Zapper offers a wide variety of DeFi services on a single platform, merchants can receive money without a bank being the intermediary, so there is no need to pay fees.
In addition, Zapper is also helpful for users who want to manage their cryptocurrency portfolio efficiently, as many digital platforms have a complicated interface, and their security allows computer parasites to attack the accounts.
Where to buy your Zapper?
Zapper is an online platform without requiring users to purchase additional hardware, drivers, or software. So, you have to access Google and search for the page. It would help if you also connected to your compatible cryptocurrency wallet, among which MetaMask or Coinbase Wallet stands out.
Advantages of using Zapper
User-Friendly Interface:
Zapper is straightforward to use.
It offers a user-friendly interface with many features.
Integration with DeFi Protocols:
It integrates with a wide range of DeFi protocols.
Users can access various financial services without intermediaries and without paying additional fees.
Portfolio Tracking:
Zapper provides a portfolio tracking tool.
Users can view their digital assets on a single screen, simplifying asset management.
Financial Analysis:
It offers financial analysis, offering users tips and recommendations for investment and savings decisions.
Transparent Fees:
Zapper charges fees for its services, which vary depending on the type of operation.
Users can see the costs of each trade before confirming the transaction.
Competitive Fees:
Zapper's fees are competitive compared to other crypto management platforms with DeFi services.
Fees are reasonable and not costly.
No Specific Discounts:
Zapper does not offer specific discounts for frequent users.
However, the benefits of using Zapper's services often compensate for the lack of discounts.
Gas Optimization Tool:
It offers a gas optimization tool for Ethereum transactions, helping users save on gas fees.
Liquidity Aggregation Tool:
Zapper's liquidity aggregation tool allows users to add money to multiple pools, paying the fee only once, reducing associated costs.
Zap Farms Feature:
Zapper's Zap Farms feature lets users earn liquidity rewards across multiple pools through a single transaction.
Diverse Services:
It offers services like trading cryptocurrencies, saving in liquidity pools, and lending and borrowing cryptocurrencies.
Users can earn interest on their digital assets.
Portfolio Tracking and Analytics:
It provides tools for efficient crypto portfolio management.
Users can make informed investment decisions with these analytics tools.
In summary
Zapper is a valuable cryptocurrency management platform that simplifies DeFi services and offers a wide range of features, making it a convenient and efficient tool for anyone involved in cryptocurrencies or decentralized finance.