Google Cloud Platform is a set of development, database, security, analytics, artificial intelligence and storage services used according to the needs of the companies that buy them. Therefore, in this article, we will discuss Google Cloud and its benefits a little in depth.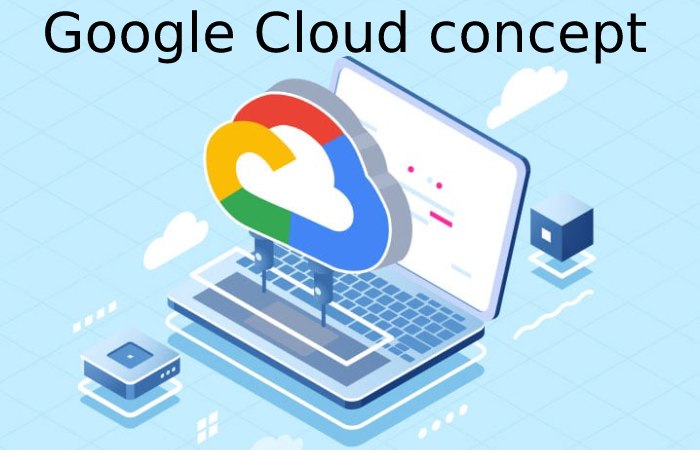 Google Cloud concept
It is a set of physical resources that are stored in data centres. In effect, they are part of Google. Data centres are located in Asia, Europe, Australia, and South and North America. It is also defined as a web development tool that massifies many previously separated tools into the same website.
The distribution of resources does not present significant failures and has lower latency. Similarly, it should be noted that they have some rules about using resources as a whole.
Cloud computing turns software and hardware products into services. So you will be able to access the underlying resources. Therefore, the website allows you to combine and mix these services. In addition, you can add the codes you want. The features are:
More than 76 zones are available.
Endorsed by 25 regions.
Data protection security and compliance certifications.
What is Google Cloud for?
By understanding what Google Cloud Platform is, you know why it is considered a suite of infrastructure and services that allows you to manage information internally. Similarly, it is available to any company, and they can use it in many business processes.
Google Cloud Platform provides all the tools from Google, such as Google Workspace. This can be defined as a set of services offering artificial intelligence, database, big data, machine learning, etc. All encompassed in cloud computing.
It provides many tools needed to design and launch applications from the Cloud. In addition, you can do analysis, which will provide security and other types of options that generate scalability
What are Google Cloud services?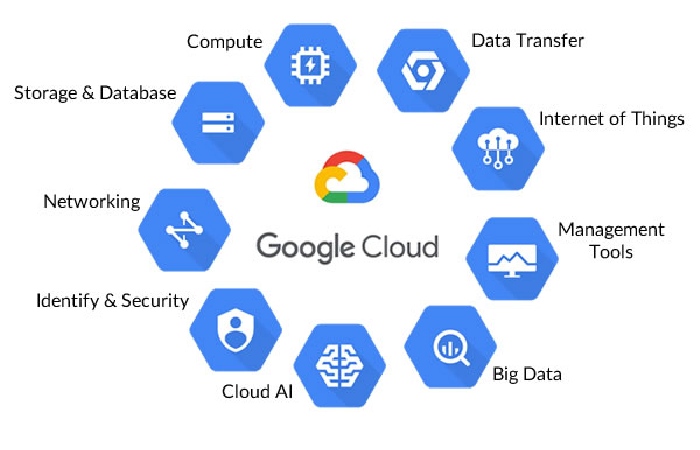 Google Cloud Platform offers us great tools, of which some stand out, such as Saas (Software), PaaS (Platform) and IaaS (infrastructure as a service).
In addition, we find Cloud Storage type services, which store files, data and documents. Similarly, Compute Engine is one of the most used virtual servers. Another is Cloud SQL (database) and Kubernetes Engine (leading containerization). Others are:
Dialog Flow.
APP Engine.
Auto ML
VMWare Engine.
Apigee
Big Query
APP Engine.
SQL Server on GCP.
What are the features of Google Cloud?
Google Cloud has redesigned the network infrastructure from the ground up to adapt to a comparable scale. In addition, they have a global, high-speed, private fibre network containing custom routing protocols, topology, and hardware. Some of its features are:
High rate of innovation
Machine learning
Weekly updates
Reliability based on a vertical integration model
World-scale network and infrastructure.
Joint innovation, interoperability and portability.
Ensures fast and consistent results.
Available in 200 countries and territories.
What are the disadvantages and advantages of Google Cloud?
Among its most significant benefits is relevant to mention flexible technology, which is what is known as open source. It also makes it possible to customize tools, which will be assigned according to the needs of those who make purchases.
In addition, it has insurance in its infrastructure, which allows it to be reliable and available to those who access it. In the same way, it will enable you to make use of their private networks, avoiding cyberattacks.
Another advantage is that it presents an innovative application with tools that allow digital transformations in sectors such as machine learning, big data and artificial intelligence.
Although most features are paid, it also has accessibility to access tools. The advantages and disadvantages are diverse, but if we talk about the disadvantages, they are very few compared to their benefits. Some of them are:
Small components
Hard to boot.
Few features compared to AWS.
Why use Google Cloud?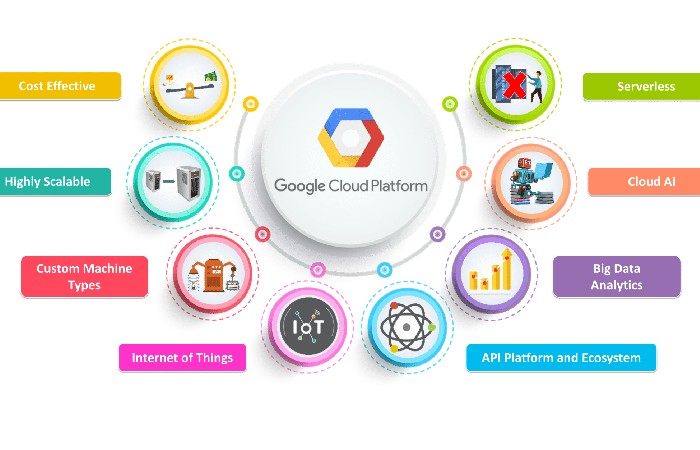 Google Cloud Platform is a company that has complied with the development of its applications. It is the ideal platform to materialize innovative ideas because it has tools dedicated to it. In addition, it has functions that make the work easier for anyone who uses it.
Of course, Google Cloud is one of the kings of analytics, providing Big Data, Data Warehouse, and Business Analytics solutions. So, it determines that it facilitates the manipulation of data.
We must also take into account another type of tool that is used in Google Cloud, which is called Kubernetes, which is a portable platform and open-source extension that serves to manage workloads and services.
In addition, Kubernetes makes it easy to automate and configure declaratively. It has a computing, networking and storage structure. Delivers service platforms (PaaS) with the flexibility of Service (IaaS) and supports infrastructure portability
How much space does Google Cloud have?
You'll be able to find a plan that's right for you. However, it should remember that Google accounts include 15 GB of storage. It should be noted that if you register, you can get a free trial and a credit of $ 300 to enjoy many services offered. The quote can also be made by entering the official website and clicking on 'Request a personalized quote.'
How do I sign up for Cloud?
First of all, you have to do is enter Google Cloud Console through the browser. Then, you should click on 'Create Account', where you need to confirm your email.
In this way, by accepting the conditions, you can continue with the account creation. Then, with your Google account, you can access the platform.
How to pay on Google Cloud?
The prices for cancelling Google Cloud depend on the review that the company runs. Your payments are not made in advance, commissions or any other way.
The more Google Cloud resources are used, the better chance you have of getting better promotions in terms of costs. You also have a price calculator through the website.