Smart Home Gadgets
In the coming years, technology will conquer more and more spaces in every home.
Little by little, our house has been filled with connected devices, supposedly intelligent objects designed to make our lives easier. But the proliferation of recent years has only been the beginning. In the future, technology will conquer more and more spaces in the smart home.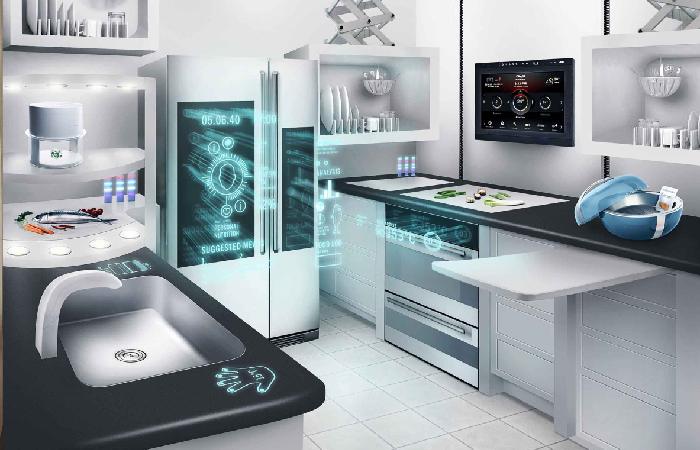 These are ten devices that will not be missing in smart homes:
Transparent Televisions
Televisions have long ceased to be a bulky package that conditioned the distribution of spaces in the smart home. But after flat televisions, transparent screens will take another step towards their ubiquity, offering new possibilities for ordering and decorating the living room and other spaces in the house.
Smart Mirrors
A device that can already be used in specific places is that connected mirror. On the one hand, these devices can function as a traditional mirror, but on the other, they act as a connected touch screen that offers endless possibilities.
Smart Locks for Smart Home 
The connected options also reach security. Facial recognition and fingerprint technologies could replace or complement traditional door locks. However, those that incorporate a keyboard to enter a code are more common. These connected security devices would even allow the door to be opened remotely.
Feeders and Drinkers for Pets
The technological possibilities of the future will also make it easier for us to care for pets. There is already a range of intelligent feeders and drinkers that allow you to program and dose food remotely from your smartphone.
Smart Switch for Smart Home
The lighting of a house is a fundamental aspect that will gain many possibilities with intelligent switches. This technology allows you to control and adjust the light throughout the smart home, even from your mobile.
Mosquito Detector
With the arrival of heat, mosquitoes also appear, those annoying nocturnal companions in the smart home.  They do not generally represent a source of serious risk; they are vectors of disease transmission in other latitudes. A technological solution to kill them are mosquito detectors, devices that use artificial vision algorithms to signal voice assistant them with infrared light.
Security Cameras
They are already present in many homes, but security cameras continue to gain profits to respond to needs at home. The ability to record and talk through the device are just some of the features that make these handy devices tools for various situations.
Voice assistants are not new, but they are here to stay for many. In addition to the possibilities that they offer, they will be the tool that allows you to control other peripheral devices in the smart home.
Smart Thermostats for Smart home
Smart thermostats have already made their way into homes, although their use will become more widespread in the coming years. Optimizing comfort in the house and energy consumption are two of the objectives of these new systems, which allow them to be managed remotely and adjust the temperature of each room.
Soundbars
Sound bars have already conquered many homes. Those who have not yet discovered this device will perceive its possibility to reproduce surround sounds when watching series or movies. In addition, they bring together many of the benefits of smart speakers.
Conclusion
Our task is made easier by these Smart home gadgets. It is unquestionably a positive thing to be valued if we use it constructively and sparingly. However, everything that is utilised excessively will undoubtedly have negative consequences on us.
Smart home gadgets make life easier and help you save money and valuable time. If used properly, they are accommodating. Your dependence on electronics may grow if you use them excessively. When utilizing devices for entertainment and performance, maintain self-control at all times.