What is E-Commerce?
E-Commerce or ecommerce is the trade of services and goods on the Internet. It is the city's bustling centre or the physical store translated into zeros and ones on the superhighway of the Internet. E-Commerce is a way, among others, to buy and sell things in a retail manner. Some companies only sell products online, but for many, e-commerce is a distribution channel that is part of a broader strategy that includes physical stores and other revenue streams. In any case, e-commerce allows new, small and large companies to sell their products on a large scale and reach customers worldwide.
What is an E-Commerce website?
An E-Commerce website is your digital storefront on the internet. Facilitates the transaction between the buyer and the seller. The virtual space is where you show your products, and your virtual customers make their selections. Your website acts as your online business channel's product shelves, sales staff, and cash register.
Moreover, businesses can create a branded store experience in a store, make their commerce site on a specific domain, or do all of this to have a multi-channel approach.
What are the types of E-Commerce?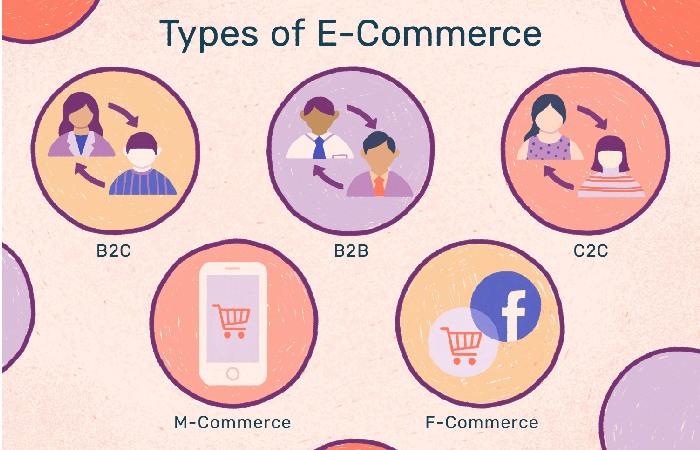 E-Commerce takes many forms, as Internet channels offer different shopping methods. Some common business models that make up the world of e-commerce are:
B2C: Companies sell to individual consumers (end users). The most common model with many variants.
B2B: Companies sell to other companies. Often, the buyer reposts products to the consumer.
C2B: Customers sell to companies. C2B companies allow customers to sell to other companies.
C2C: Consumers sell to other consumers. Companies create websites that connect consumers.
B2G: Companies sell to governments or government entities.
C2G: Consumers sell to governments or government entities.
G2B: Governments or government entities sell to companies.
G2C: los gobiernos o entidades gubernamentales venden a consumidores.
B2B: business-to-business
B2B (business-to-business) or business-to-business online commerce is one of the best-known types of e-commerce and encompasses all kinds of activities between two companies through the internet. A concrete example of this can be a supermarket portal aimed at the hotel sector or a platform for purchasing building materials for companies dedicated to masonry.
B2C: from business to consumer
B2C (business-to-consumer) transactions are probably the most well-known type of e-commerce operation. Under this modality, private consumers acquire products or services from a business through electronic commerce, usually through a virtual store on their website or specialised platforms where various sellers offer their services.
Examples of B2C transactions are acquiring a computer on a portal, purchasing in a supermarket as a private individual or offering products to private customers in a virtual store on a platform such as eBay.
B2E: from the company to the employee
While this is not a commonly used model, B2E (business-to-employee) e-commerce is a way for some companies to offer various paid products or services to their employees, usually at a lower price than the market. Its objective is usually that employees enjoy advantages for belonging to the company regardless of salary, either in the form of services and products of the company itself or of other companies through a specialized portal, usually with restricted access.
Some Spanish banks, for example, offer a shopping portal to their employees with a variety of products with significant discounts. At the same time, some airlines or hotel chains offer deals on trips or hotels through their portals exclusive to their employees.
C2C: from consumer to consumer
Another business model is consumer-to-consumer e-commerce, which refers to transactions between private users and generally encompasses second-hand purchases of products that have already been used.
Although traditionally, this type of purchase was limited to the local level and among acquaintances, they have evolved to the point that there are no longer only platforms such as eBay, Craiglist or Milanuncios that facilitate private users to get rid of goods they do not need, but that even specialized C2C applications such as Wallapop have emerged in which it is the customers themselves who negotiate among themselves the sale of second-hand products of all kinds. Such as phones, accessories, clothing, comics or any other item.
G2C: from the government to the consumer
G2C (government-to-consumer) transactions from the government to the consumer are probably the least common. They occur when a government of any field offers citizens access to online services or products through its portals or platforms.
Generally, these require an identification to associate each procedure with a specific citizen. Although the offer is usually minimal, typically in this area, the transactions of electronic services are generally moved, such as the declaration of taxes online or access to certificates, claims or government procedures by the consumer.
Where and how does e-commerce develop?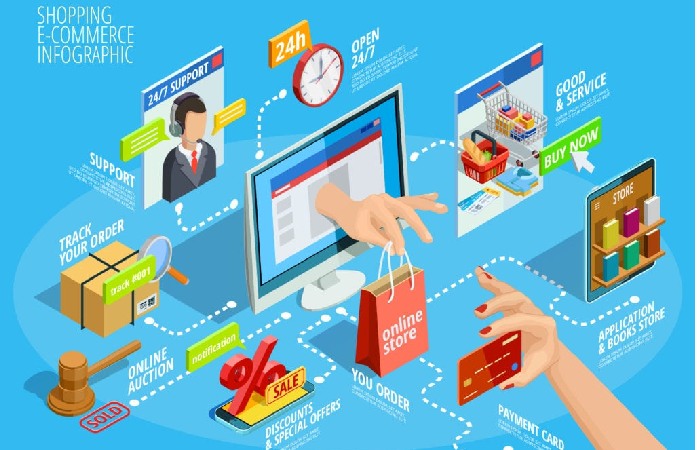 Internet shopping evolves and changes daily. People buy from their computers, phones, tablets, and other devices, and they visit websites and social media pages and participate in thriving virtual channels. Here's an overview of three different methods of conducting e-commerce today.
M-commerce (mobile commerce)
Internet transactions on mobile devices are known as mobile commerce or "m-commerce". Given that wearable devices are in the hands of consumers around the world, it's no wonder that mobile marketing will overtake non-mobile in 2021.
Many people research products and shop on the Internet through their phones. It shows no signs of reducing down, so optimising your online store for mobile devices is essential.
E-commerce for businesses
Business e-commerce is the buying and selling products to large companies or organizations. If a large company sells many different types of products or has several brand lines and goes on to sell on the Internet, then it participates in business e-commerce.
E-commerce on social networks
 A social network can help you market and promote E-Commerce stores to a broad audience. Just as social media allows you to connect with friends and family, it also has the potential to attract customers to your business. If done right, social media marketing attracts customers in a casual setting.
Social media can help you:
Attract new customers
Build brand awareness
Generate Online Sales
What are the advantages and disadvantages of E-Commerce?
As a business grows, most e-brand owners come to a crossroads: Should you ramp up internal operations and find a way to store, manage, and ship more inventory, or hire a logistics management service? Here are three possible solutions:
Advantages of E-Commerce
Conducting sales on the Internet has some significant advantages. Among the main benefits of e-commerce we will find:
It's growing rapidly
Delivers a global marketing reach
Provides the ease of ordering products on the Internet
Generally implies lower operating costs
Provides direct access to the consumer
All the above points offer strong incentives to engage in e-commerce. Let's analyze each one in detail.
The rapid growth of retail E-Commerce
In the 12 months ending May 31, 2020, U.S. small and medium-sized businesses sold more than 3.4 billion products in Amazon stores, an increase of $2.7 billion from a year earlier. Overall, e-commerce sales increased by more than 30% in 2020. Although much of the recent rise in internet spending is due to the COVID-19 pandemic, experts predict this trend will continue.
Global marketing reach
In the past, a company's reach was limited by the number of people who could physically enter through the doors of a store. Moreover, today, e-commerce allows you to reach customers around the world. It increased use of the internet and the growth of social media makes it easier for E-Commerce business owners to get a greater variety of customers.
Easy to order products
With all types of e-commerce, customers can browse options and make purchases from anywhere with just a few clicks. This makes it easy to sort and compare products by price or function, and Online payment innovations further streamline the purchase process.
Decreased operating costs
Creating and maintaining a website is less expensive than having a conventional store. You can start a business e-commerce channel without renting commercial premises, hiring employees or having a large warehouse.
All of these advantages add up to the low overhead. You don't need to pay rent or worry about maintaining a building. Once connected, your store is open 24 hours a day, without needing to be supervised or staffed like a physical store.
You can use website-building tools and services to set up your E-Commerce store quickly or avoid creating a website and launching your brand on social media or in a store. Many companies sell through various Internet channels.
Direct-to-consumer access
Thanks to the Internet, e-commerce brands can establish direct relationships with their target audience. You don't have to pay for a gigantic ad or a TV campaign to get the public's attention. However, you can tailor your brand and marketing strategy to suit your customers' wants and needs to offer them special offers and personalized product recommendations.
Challenges of e-commerce
Despite its many advantages, e-commerce has its weak points. Some businesses may try to avoid e-commerce due to issues such as:
Limited face-to-face interaction
Technical problems
Data security can be challenging
Large-scale shipping and logistics management
Limited face-to-face interaction
Face-to-face interaction is really important for some businesses and transactions. Depending on your product, service, or sales style, it can be challenging to incorporate the full force of your personality into the internet space.
Although there is no magic bullet, keeping your brand story at the beginning of everything you do can help you maintain authenticity on the internet. On the other hand, if you prefer to communicate with customers by email or phone, this inconvenience could be a big plus.
Technical problems
Technical challenges that are out of your control can have a negative impact on sales. Just as a setback in your supply chain can prevent on-time delivery of products, an internet problem or hard drive failure can cost you time and money.
Remember, for every technical problem that may arise, and there is likely to be a solution or prevention measure you can take. And also, make sure you back up your data regularly. Using a store can help mitigate these risks thanks to an established and trusted technical infrastructure.
Concern for data security
Customers are increasingly cautious about how their information is stored and shared. Build customer trust through details about your privacy policy. Moreover, it demonstrates transparency and assures customers that you will protect their personally identifiable information.
Many websites have been working for decades to create a secure shopping experience and businesses that sell on benefit from customers' trust for a long time. When you host an E-Commerce store on your domain, you need to find a secure payment processing service to avoid damaging customer data.
Large-scale shipping and logistics management
It can be easy to pack and ship orders from your garage or in an extra room when you start using e-commerce. However, order logistics management becomes much more time-consuming as your company grows. Surges in orders can cause you to struggle to fulfil them. Using a service can help reduce the strain on your business and keep customers satisfied.
Learn more about choosing the right ecommerce logistics management service to grow your business.
What makes an E- Commerce store successful?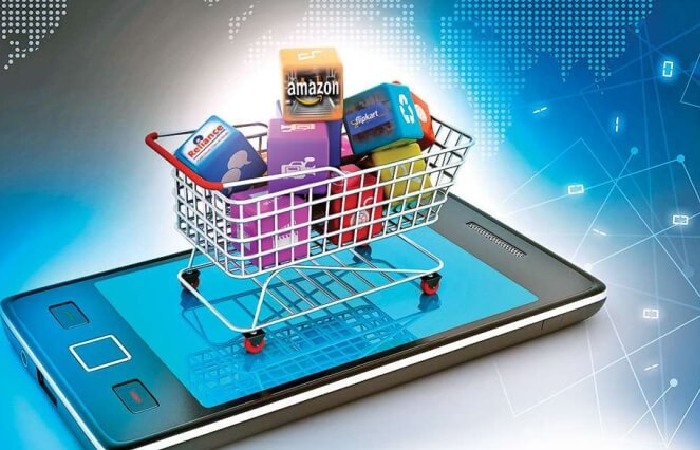 In every high-performance e-commerce company, there are a few key elements. When preparing for success, focus on your products is first and most important. You also have to consider the brand's message, target audience and store user experience. In addition, we must consider the logistics management process, which guarantees the timely delivery of products to achieve maximum customer satisfaction. Let's look at each of these critical components in detail.
Excellent products
High-quality and reliable products and services are the foundation of every successful e-commerce brand. Your product has to solve an unmet customer need or challenge, and you also have to offer it at an attractive price.
The quality and prices of your products will make your ecommerce business a success. Do market research to find out what kind of products your competitors sell and the market value of similar items.
A compelling brand story
Unique brands stand out, but a great brand requires more than just a great product. To capture the customer's attention, convey the purpose and vision of your company.
Ask yourself why your company must exist. How will your products improve the lives of your customers? Your brand has to convey the answers to these questions.
Spend time thinking about the look and feel of your brand. Dig deeper and find a simple and powerful way to convey the origin and mission of your company.
How to create your brand?
A target audience
Define your target audience to attract loyal and enthusiastic customers. Who do you want to serve with your products? Direct your marketing efforts to that group.
Once your company gains strength, think about who will be moved by your brand's story. Instead of chasing shoppers who don't need your product, focus your efforts on an audience that appreciates your brand.
A smooth browsing experience
Virtual stores must be easy to use, and buying does not involve effort when the online store is well designed. If customers go through too many obstacles, they will abandon their carts before completing the transaction, and sales will be affected.
Successful e-commerce stores maintain the prominence of their products by streamlining the purchase process. Basically, it eliminate all unnecessary steps, make your user experience intuitive and simple, and enjoy the pleasure of satisfied customers
On-time order management
Customers want speed and efficiency, especially when shopping online. No matter what you sell, customers want their purchases delivered intact and on time.
Logistics management includes every step of the customer's process, from when they press "Buy" to when they take the item out of the box. Successful ecommerce stores pay close attention to the logistics management process and ensure they have enough products on hand to fulfil their orders, even during their busiest seasons.